We help you to set up and grow your business
Expanding into new international markets can prove to be a challenge for many often unexpected reasons. Our "Doing Business in Lithuania" service aims to assure you have interdisciplinary support every step of the way to your new venture. From finding the best location to setting up a branch or a subsidiary - we are fully committed to your success.
We can help you with the following services:
Company set up

• Corporate structure
• Company registration
• Bank account advice
• Advice on regulatory requirements setting up Fintech company

Taxation services

• Corporate and international taxes
• Indirect taxes
• Transfer pricing
• Personal taxation advice
• Tax compliance services
• Stock options tax advisory
• Tax audit

Legal advisory

• Commercial law
• Contract lax
• Labourlaw
• Data protection and information security (GDPR)
• Legal Compliance
• Legal daily support
• Corporate daily matters
• Employment related migration
• E-residency

Financial advisory services

• Fund raising
• Debt advisory and financial restructuring
• Technology consulting
• Deals
• Internal audit
• AML / CFT audit
• Business intelligence
• External CFO

Business growth support

• Mergers and acquisitions
• Expert, tailored support to help you grow your business
• Market assessment and competitor analysis
• Market entry strategy
• Introductions to key business communities
• Financial, tax and legal due diligence

Outsourcing & BPS

• Bookkeeping for start-ups
• Accounting services and financial reporting
• Payroll

Audit and assurance

• Statutory and non-statutory audits
• Financial reporting advisory
• Financial reviews
• International financial reporting standards
Why choose Lithuania?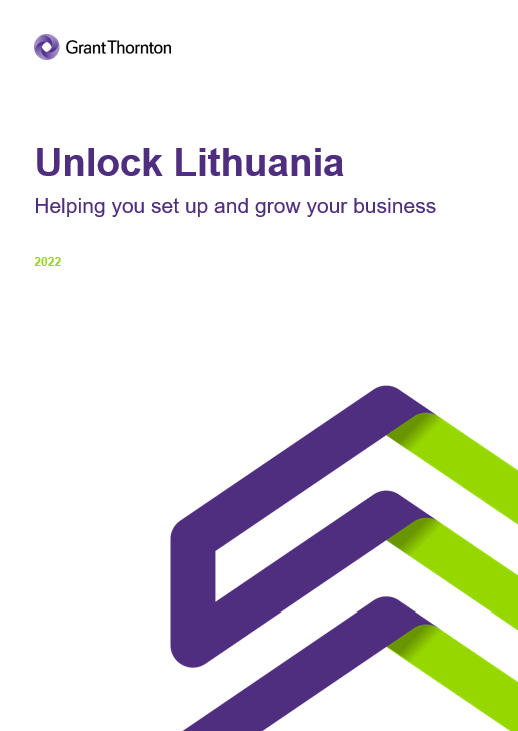 Still deciding if Lithuania is the right business environment for you?
Read our brochure to find out more!
Grant Thornton
–
A truly global organisation
Grant Thornton is one of the world's leading organisations of independent assurance, tax and advisory firms. Wherever you choose to do business, you want access to people with the best ideas and critical thinking that will enable you to grow your business at home and abroad. To ensure continuity of service, we have 40 international business centres (IBC) led by experts from around the world, that work together to provide and co-ordinate the gateway to the resources of Grant Thornton.
Contact us
For more information on how Grant Thornton can assist you with Setting up a Business in Lithuania, contact us today.